Trip to Irton, Lake District
On a recent brief trip to the Lake District it gave me the opportunity to find inspiration from three different sources. Firstly, we stopped at a lovely B&B, The Old School at Irton, Holmrook (which I would highly recommend)  https://www.theoldschoolandbettys.co.uk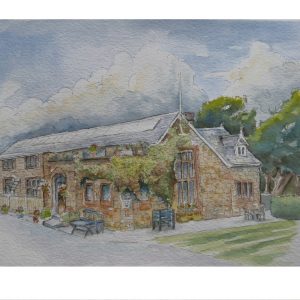 Here I have painted a watercolour/pen & ink picture of the house and grounds. It is situated in the south western Lakes and has very picturesque with views of Muncaster Fell and Wasdale valley.
The obvious place to sketch was from a five minute walk alongside The Old School to Irton Church where the views are fantastic. I drew a pencil sketch on the spot, then completed a small watercolour painting afterwards.
The third and most fortuitous object of inspiration came as we walked along the aforementioned path. What we thought was a piece of rock or a lump of wood turned out to be a tawny owl sitting peacefully on the path! We approached it as silently and cautiously as possible, not wanting to frighten it and I managed to get a few photos on my phone which are not of the greatest quality but still gave me the opportunity to draw it afterwards.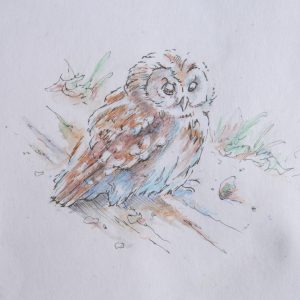 It just goes to show, with just a sketchbook and a few pencils, pens and paints you can find inspiration to capture beautiful buildings, or sketches to use as future references for finished paintings or just a keepsake of a brilliant and unexpected holiday encounter.